Across America, states are hit with searing temperatures during the long summer months and frigid cold when winter arrives, and HVAC companies stand at the front lines to keep residents and business owners comfortable throughout the entire year. HVAC work is always in demand, but the competition is often absolutely fierce. This can make it difficult to effectively market your HVAC company, but we can help you find success with our proven HVAC marketing services here at Centermass Strategies.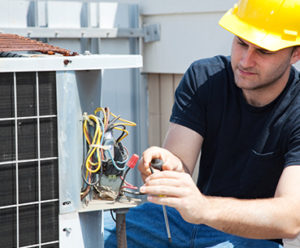 Centermass Strategies offers a long, potent list of HVAC marketing services. We have worked in the trenches for years and have proven experience growing an HVAC business in one of the most competitive markets in the nation. We have rebuilt an HVAC brand from the ground up, built awareness and driven sales to new heights.
Centermass has also managed the transition from print to web, created a far-reaching internet presence and created and implemented a six-figure budget that has propelled an ac and heating company from a top 30 company to one of the top 5 in its service area.
Our Expertise
For over 12 years, we've worked hard at honing our skills with hands-on experience in marketing HVAC companies with the goal of ensuring that each client receives the absolute best results. We understand that there is no one-size-fits-all solution, and we draw on the creativity and knowledge of each of our professional team members to find the right path for your business.
Our methods have been quite successful for a great many HVAC companies, and we have proven experience growing HVAC businesses in Florida, which has one of the most competitive markets in the nation. Our achievements include bringing a company that once ranked in the top 30 in its region to a position in the top five.
Our Marketing Approach
After thoroughly exploring our client's particular needs, we'll embark on a journey to build a custom program for your company. You built this business, so we want to have your input to help us better determine what steps to take to help you reach your goals. These are just a few of the options that we may use to assist you in reaching a higher level of success.
• Local SEO: Internet search results are important when it comes to growing your business, and you'll reach more customers when your company shows up on the first page of the results when local residents search for an HVAC company. We use experience, strategy, research, implementation and tracking to place your company high in the search results.
• Pay-Per-Click Ad Campaigns: This is an excellent way to increase traffic to your website, and it works by placing ads for your business on the top of relevant Google searches as well as on various news feeds and Facebook accounts. We select your platforms based on your needs and carefully track the results to ensure the best return on your investment.
• Social Media Management (SMM): A company's social presence plays a big part in its Google ranking, and you can get started with a free account on Facebook, Twitter and Instagram. Links to blog posts, services offered and promotions may be shared, and this may lead to customer feedback and more business.
• Online Reputation Management: Customer reviews can boost your business, but it's important that the reputation of your company be protected on the web. We use a variety of content creation, public relations, social media and SEO to showcase an overall positive reputation for your company.
• Email Marketing:This may include weekly or monthly newsletters sent by email to all subscribers. Content may include coupons, exclusive deals, current sales, details on promotions, new services offered or updates on the company.
• Web Design: We have some amazing talent on our staff, and these team members are beyond proficient at web design and development. We can build your website from scratch or greatly enhance your current site. We also design mobile-friendly websites for those who prefer to use a phone or a tablet instead of a computer.
• Graphic Design: Professional graphic design work is available with several options for your HVAC company. We're ready to create logos, infographics, web banners, web graphics, business cards, brochures, signage and banners.
• Content Creation: Once your website is up and running, we'll keep it fresh and relevant with quality content created by knowledgeable writers in the field of HVAC. We're prepared to offer blog posts that address all brands of air conditioners, heat pumps, straight cool systems, ductless systems, system repair or replacement and any other products or services that you may wish to offer. Adding new blog posts to your site regularly is a great way to connect with your current customers and potential new clients.
Traditional Marketing
While we live in the digital age, that doesn't mean we must abandon traditional marketing. Often, digital and traditional marketing can easily work together to encourage new business. These are a few of our traditional marketing offerings.
• Marketing measurement services
Contact Us Today
If you're ready to move your HVAC company up to the next level, then please feel free to contact us about our digital marketing for AC companies. Give us a call at 727.612.7438, or you may request a quote.