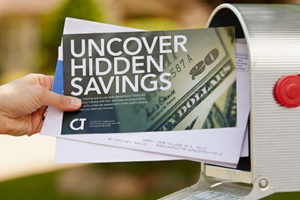 Direct mail, or advertising mail, involves mailing circulars, coupon envelopes (ie Valpak), catalogs, and other commercial merchandising materials to homes and businesses. Though the internet has produced effective alternatives, direct mail continues to thrive and can prove effective when timed and targeted properly.
Centermass has hands-on experience developing and harvesting targeted lists, designing and implementing direct mail campaigns. As mentioned above timing and targeting are critical for success. Also, a strong, compelling offer must be made in order to encourage a response.
Write or call today and let us assist you with a laser-targeted, well-timed direct mail strategy that includes a attractive design and great offer. 727.612.7438
Let's Make Something Awesome, Together.
Tell Us About Your Project.