Email marketing. It seems like it's been around about as long as the internet itself. It hasn't of course, but anyone with an inbox has been exposed to it at one time or another.  There are a couple of types of email marketing services. The first, promotional emails, are designed to get the reader/user to take action to include making a purchase or signing up for a service or activity. Very often promotional emails include a discount to motivate the user to take action. Retention emails, the second type of email marketing, are sent to existing customers and clients and are designed to build and maintain a relationship. These emails often take the form of newsletters and can include "inside information" about new products, discounts and more.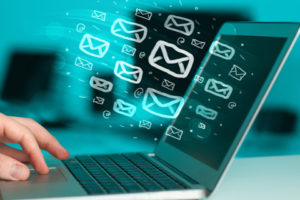 Well-crafted email marketing campaigns can be extremely effective, even though it can be argued email marketing's impact has been slightly diluted with the growth of social media and ever-present spam. Targeting coupled with strong offers and great timing can deliver R.O.I. and along with social media, email marketing can be a tremendous tool in the battle to gain and retain customers.
Centermass Strategies offers experienced email marketing services/ management. We can design and build campaigns that deliver conversions and/or build relationships. With opt in, or permission email marketing, subscribers will not only avoid blocking emails, they will look forward to them. Leveraging tools like Constant Contact and Mail Chimp, results can be clearly measured.
So if you tried email marketing on your own with minimal results, or not all, we can assist in establishing an email marketing program that delivers. Write or call today to learn more about our email marketing services St Petersburg and let's get to work building your email list(s), irresistible email campaign(s), and your bottom line. 727.612.7438
Let's Make Something Awesome, Together.
Tell Us About Your Project.